If you've heard it once, you've heard it a million times, the digital landscape is ever-evolving. Being aware of the latest changes is crucial to effectively reaching our target audiences in real-time. Over the last 12 months, significant transformations have occurred that have shaped the digital advertising world. By staying informed, we can adapt our strategies and drive exceptional enrollment results for our institutions. 
Recent Legislation on Social Media and Its Impact on Youth:
In response to growing concerns about children's access to social media platforms, several states have implemented new legislation. States like Arkansas, California, Connecticut, Louisiana, Maryland, Minnesota, New Jersey, Ohio, Texas, and Utah have either passed laws or are actively considering passing bills to enforce age verification on social media, thereby limiting access for minors on popular platforms such as TikTok, Facebook, Instagram, Snapchat, and more. Moreover, Arkansas and Utah have gone a step further by prohibiting digital advertisements that specifically target individuals under 18. These changes present challenges for colleges and universities in reaching their desired audiences during their Search campaigns. Many of these laws are set to take effect in 2024 so developing a plan to continue to reach these audiences is imperative.
Limitations on Prospecting: Privacy Laws and Platform Updates:
Prospecting is a critical component of successful advertising, allowing us to expand our reach and generate net-new inquiries, brand awareness, and applications for our institutions. However, increasing privacy laws and platform updates have placed limitations on our prospecting potential. Notably, META and Google have introduced changes that impact prospect targeting options. For instance, as of May 1st, 2023, Similar Audiences are no longer available as an audience option on Google Ads. These lookalike audiences were valuable for leveraging existing data, such as lists and website traffic, to identify like-minded prospects. Additionally, META has intensified its restrictions on third-party data, significantly constraining our ability to prospect effectively. As digital marketers, we must adapt our strategies by exploring alternative targeting options and maximizing the potential of first-party data.
Embracing Google Analytics 4:
By now, you've likely heard the buzz, both positive and negative, surrounding Google Analytics 4 (GA4). We have been advocating for over a year that our partners create a GA4 property and familiarize themselves with this tool, as Universal Analytics is scheduled to sunset on June 30, 2023. Google has taken measures to encourage the transition, employing prominent visual cues such as the bright red bar atop your Universal Analytics profile

and a countdown timer upon accessing your property.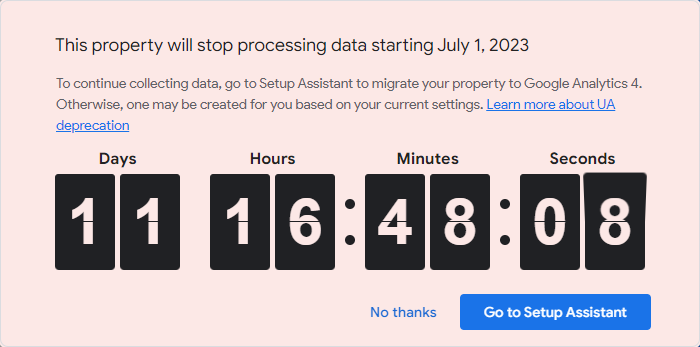 GA4 behaves very differently than Universal Analytics in many ways, and as we get closer to the June 30th deadline, it is crucial to continue to educate ourselves about its features and capabilities so we can utilize the tool to its fullest capabilities. For more insights on transitioning to GA4, we recommend checking out our comprehensive blog post on the topic.
At Waybetter Marketing, we are committed to providing the most effective digital ads strategy to provide outstanding results and recommendations to our partners in the college and university sector. As digital marketers, we must be adaptable to the ever-changing digital advertising landscape and proactively develop plans to stay ahead of new developments. By staying informed about recent legislation and privacy updates we can understand the limitations and opportunities before it's too late.